Dromoland Castle Weddings
If you're seeking a wedding venue that exudes luxury, history, and grandeur, look no further than Dromoland Castle. As one of Ireland's most prestigious and opulent wedding venues, Dromoland Castle offers an unparalleled experience for couples seeking a truly bespoke celebration. As a Dromoland Castle wedding photographer, I have captured the beauty and elegance of weddings in this remarkable setting. Join me as I delve into Dromoland Castle's wonders and the unique photography opportunities it presents.
Dromoland Castle is synonymous with luxury and sophistication. From the moment you step onto the estate, you are transported to a world of elegance and enchantment. The castle's rich history, breathtaking surroundings, and impeccable service make it the perfect choice for couples looking to create an unforgettable wedding experience.
Imagine exchanging your vows in the romantic Walled Garden, making a grand entrance in a horse-drawn carriage. The picturesque setting and lush greenery provide a captivating backdrop for your ceremony, creating a truly magical atmosphere. As a Dromoland Castle wedding photographer, I take great joy in capturing genuine emotions and intimate moments as you declare your love surrounded by nature.
After your ceremony, picture yourself and your guests sipping champagne on the castle's manicured lawns, basking in the warm glow of joy and celebration. The expansive grounds offer endless opportunities for stunning photographs, whether it's amidst the vibrant gardens, by the tranquil lake, or against the backdrop of the castle itself. Every corner of Dromoland Castle is a treasure trove of photographic possibilities. This allows me to capture the essence of your love story in a truly remarkable way.
As the day transitions into a joyous reception, the magnificent Brian Boru Hall awaits. This awe-inspiring venue exudes elegance and grandeur, providing a regal setting for your feast and dancing. The team of specialists at Dromoland Castle will work closely with you to ensure that every detail of your dream wedding becomes a reality. From personalized menus to meticulous event planning, they will strive above and beyond to create an experience tailored to your unique vision.
As your Dromoland Castle wedding photographer, I am committed to preserving every precious moment of your special day. With a keen eye for detail and a passion for storytelling, I will capture the grandeur, the romance, and the joy that permeates the air at Dromoland Castle. My goal is to create a collection of photographs that transport you back to your wedding day. This will enable you to relive the emotions and memories for years to come.
If you are planning a wedding at Dromoland Castle and are looking for a photographer who can expertly capture the luxury and elegance of this extraordinary venue, I would be honoured to be a part of your celebration. Let's embark on this incredible journey together, documenting the love, laughter, and cherished moments that unfold at Dromoland Castle. Together, we will create a collection of photographs that will serve as a timeless testament to your love story. These photographs will capture the essence of this remarkable chapter in your life.
Official Website: www.dromoland.ie
Gallery of Dromoland Castle Weddings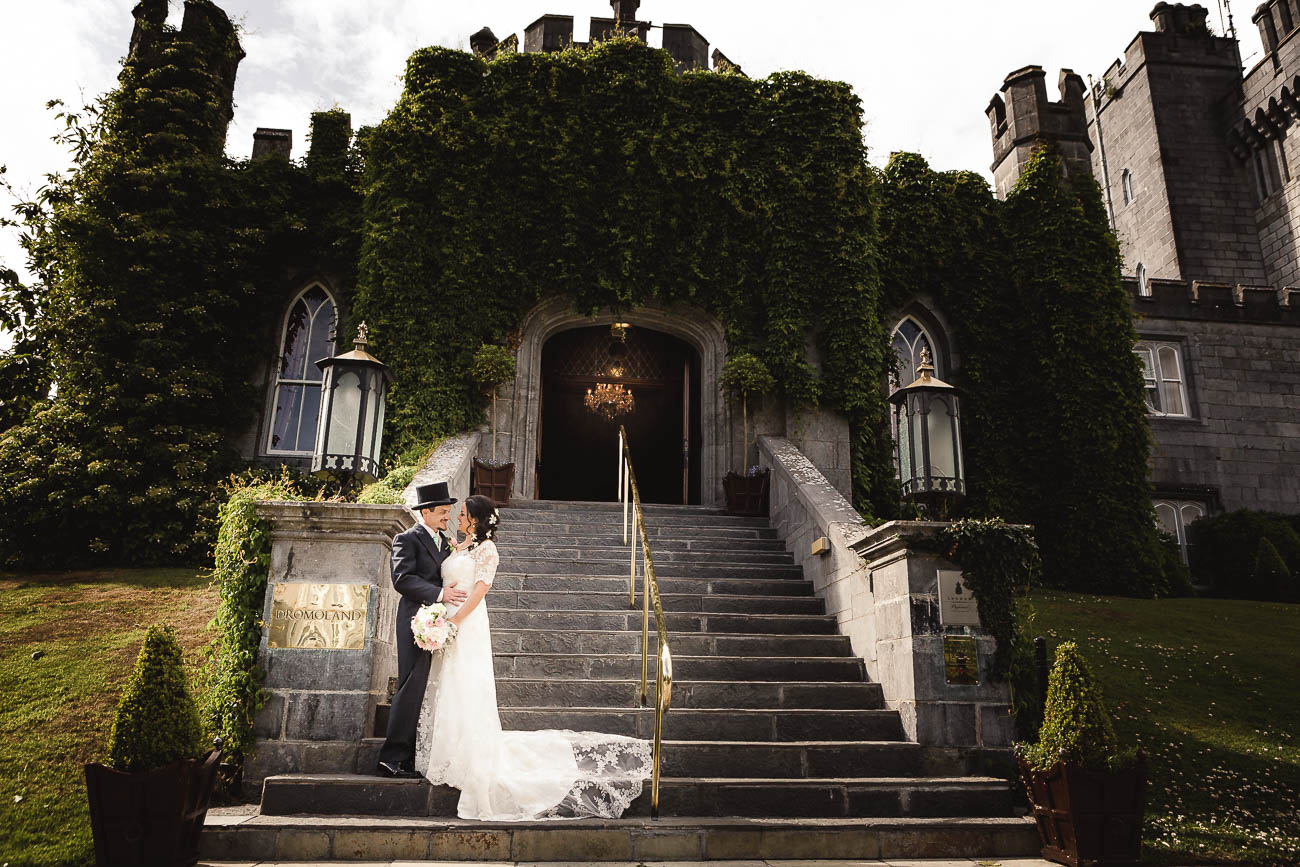 Dromoland Castle Weddings Stories