Castleknock Hotel Weddings
Indulge in an Unforgettable Wedding Experience at Castleknock Hotel
Your wedding day is a cherished moment that deserves to be celebrated in style, surrounded by your loved ones. Castleknock Hotel's dedicated wedding team ensures that every detail of your special day is meticulously planned and flawlessly executed. From the moment you begin planning your wedding to the final touches in our newly refurbished ballroom, we strive to create an unforgettable experience that is stress-free. This allows you to fully immerse yourself in your wedding day.
Exquisite Ceremony Spaces: Imagine exchanging your vows in one of our stunning ceremony spaces, designed to create an intimate and enchanting atmosphere for you and your guests. With the capacity to accommodate up to 160 guests, our beautifully appointed ceremony spaces provide the perfect backdrop for your heartfelt declaration of love. Let the air be filled with love and anticipation as you take this momentous step together.
Elevate Your Celebrations: After saying "I do," the real celebrations begin. Treat your guests to a shimmering welcome reception hosted in our award-winning restaurant, Earth & Vine. Raise a toast to a happy beginning and bask in the joyous atmosphere as you embark on this exciting journey as a married couple. As the day transitions into night, continue the festivities in our elegant Phoenix Suite. Here, you and your guests will dine, dance, and create unforgettable memories that will be cherished for a lifetime.
Luxurious Accommodations for Your Guests: With 190 beautifully appointed bedrooms at Castleknock Hotel, your guests can relax and enjoy the festivities without worrying about finding their way home. We offer a special rate for newlyweds on selected rooms. This ensures that you and your spouse can retreat to a comfortable haven after a day filled with love and celebration. By extending their stay, your guests can take advantage of your wedding and spend quality time together. They may join you for a laid-back BBQ the following day.
Premium Options and Seasonal Delights: At Castleknock Hotel, we understand that everyone has their own vision for their dream wedding. Our Castleknock Premium Option offers luxury with floral-dressed candelabras and gold Lady Victoria Chairs, adding elegance to your celebration. Additionally, if you are considering a wedding between November and February, our 'Winter Themed' option provides a magical ambience. This is perfect for creating a cosy and romantic atmosphere during the colder months.
Conclusion: Castleknock Hotel is ideal for bringing your dream wedding to life. With our dedicated wedding team by your side, every step of the planning process will be seamless and stress-free. From stunning ceremony spaces to exquisite dining experiences, luxurious accommodations, and premium options, we are committed to creating an unforgettable day that reflects your unique love story. Allow us to be a part of your journey as you embark on this incredible adventure of a lifetime.
Official Website: www.castleknockhotel.com
Gallery of Castleknock Hotel Weddings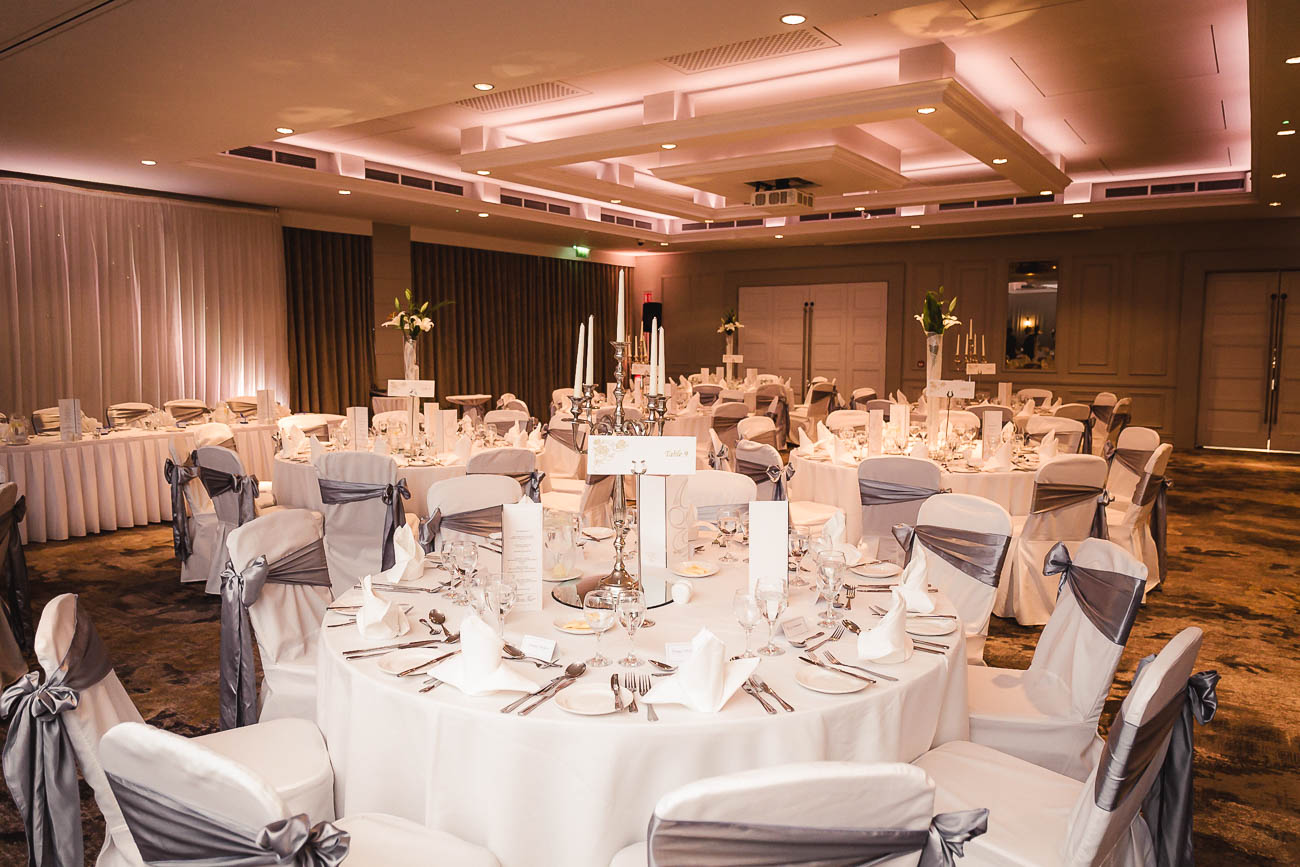 Castleknock Hotel Weddings Stories